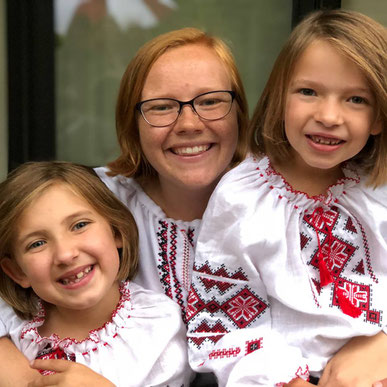 As some of you know...but many of you don't I am back in Ukraine for another year! 
Last year after returning from home at Christmas, I really started to feel like Ukraine was a good place for me. There are many reasons for this but it all really comes down to the fact that I am really happy here. And for that reason, I started to put out some feelers for possible job opportunities to stay here in Ukraine. In the Spring, I accepted a job with the London School of English in Kyiv as an English teacher. 
This summer, I went to Odessa (in the south of Ukraine) to take my English teaching certification course (CELTA). After a month of studying and teaching and more studying, I 'graduated' with a CELTA certificate and then I came home for a bit of a vacation. 
Two weeks ago, I said goodbye to my family again and came back to Ukraine. Moved into my new apartment in Kyiv. Last week was work orientation and this week...Classes start! 
To be honest, I can't believe this is what I am actually doing. For years everyone around me said that I would be a great teacher. And for years I told everyone around me that I would teach over my dead body. Well, here I am. Completely alive and teaching. And really liking it. 
But, I am also terrified. Overwhelmed by all I don't know and fears of letting my students down. Paralyzed by my own worries. 
My boss, at LSE, she keeps saying take it one step at a time. And I am trying to remind myself to do that. One day, one class, one lesson plan at a time. Because when I look through theses textbooks and syllabi and grammar books...all I am reminded of is how little I know! 
Enough of my musing of my anxieties. 
Good things are happening too. I love Kyiv. I love living in the bigger city, I love reading on the metro on my commute to work, I love all the people and all of the opportunities, and I love my new apartment. 
I am also very lucky because I am starting out with four other new native speaker teachers and in total 10 new teachers at LSE (I think...there are a lot of us).  I get along well with the other teachers and feel like for the first time since I arrived in Ukraine I have a really healthy group of friends with common interests.

Hanging out with so many Brits is really changing my vocabulary though. I've gotten to the point where I sort of think in British English and then when I go to speak I say crazy things because it is a mixture of American English and British English. So that has created some funny moments.
All is all. Life is good. Life is crazy. I am anxious...but what is new? I am working hard at taking this whole thing one small step at a time. Thoughts...advice..funny jokes to distract me. All are welcome. 
Hopefully, I will write again soon (at least sooner than my last post!) But we will see what happens here with my first couple weeks of school. 
До свидания. 
Bye for now!